When you answered the preliminary questions, about choosing a wedding date, your guest list, and wedding budget, you can start the search for your wedding venue. We know that it is not easy to have a guest count a few weeks post a couple has decided to tie the knot. However, playing like everyone on your wedding list is going to show up is a good way to go as it's a perfect excuse for them to travel or just to come see you. The reason for doing so is to ensure that you don't underestimate the possibility of inviting more guests than the Ceremony or Reception venue can hold.
Planning a wedding in any big city can be a bit confusing as the venues to choose from are so varied. In the city of Toronto you have choices like Banquet Halls, Barn Venues, Golf and country clubs, wineries, Cruise ship/Yachts, Historic venues, Galleries/Museums, Hotels, mansions/houses, wedding chapels and restaurants. Now you might think "Well, how should I narrow down my options?!" With a little more patience you'll find your answer in the lines below.
Here are four key considerations before booking that venue;
Matching your wedding Style
A romantic beach, an urban industrial loft, a rustic barn or even a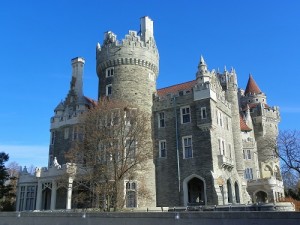 glorious vineyard could be some of your  preferred or rather more appealing location choices when planning your wedding. However, it is not necessarily easy to plan a wedding of a specific style in every venue. Not all wedding styles fit the architecture of a historical venue. Having decided the theme and style of your wedding helps you to come up with a selection so you can pick your dream venue from. Choosing the wedding day style is one very important decision couples make for that day. This focus and clarity saves a lot of time and money on decorations.
Making sense for your budget
In order to keep the budget on a strict leash here are some of our pointers to make sure you're asking the right questions:
Is there going to be an on-site facilities manager? Will you require a day-of wedding coordinator for extra help?
Which day of the week would you like to hold the event? (Figuring out the cost difference between hosting a wedding on a weekday as opposed to weekends)
What services are included in the venue cost?
What are the options for food menu and beverage packages?
How many hours of bar service? And do you allow additional hours?
Are you considering having a cocktail hour?
Is there a service charge on top of the bill?
Is there a possibility of an upgrade? And what are the refund policies?
Is the catering in-house or is there an approved caterers list?
What are the staff numbers for service on the day?
Easy to access and accommodate
While there are many factors that go into choosing a venue, the most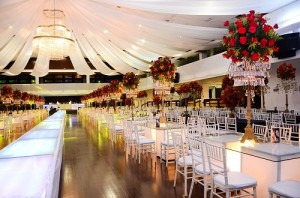 important thing to keep in mind is availability, size and feel of the space. Of course the feel of the space depends on the weather largely, if it's eventually going to be an indoor location or an outdoor ceremony. The peak seasons in Toronto are considered to be from May to September and off peak from November to March. If this particular venue holds weddings in all seasons, don't forget to ask if there is air conditioning and heating on the premises. Knowing the venue capacity and if any of your guests need special accommodations is something you want to keep in mind before signing that venue contract. Some venues accommodate both your ceremony and reception at the same location, find out if your wedding venue does the same. If your wedding is taking place outdoors, make sure that the venue can offer a plan B, if required.
       The other thing to keep in mind while booking that venue is to see if it is easily       accessible by public transport. Your wedding may not be the only event being held in that location on that day. You want to make sure you know how many guests are expected for that other event if you are sharing a space. Make sure there is a good flow to the space so people don't feel cramped when approaching their snacks/drinks and enough space for people to mingle comfortably. In the end consider adequate parking space for all your guests.
Don't forget Good lighting and Acoustics
One of the key considerations to keep in mind is that the venue is brightly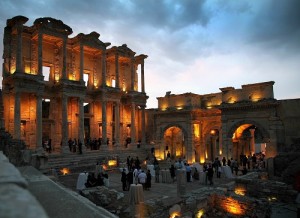 lit. Lighting has a huge impact on the mood of the entire event. If the wedding is during the day, make sure your hall has plenty of windows. Make sure there is enough natural light coming or would you have to hire external lights for the photography session. If there is plenty of outdoor space this won't be such a concern. If it is an evening wedding, make sure the room is not dim or that the lightening can be individually controlled for the entrance, hallways, dinner space and even for the dancing area.
Having good acoustics adds so much entertainment value to the event. Echoey acoustics makes even conversations difficult to have in such spaces. Flooring of the venue has an immense ripple effect to sound-carpeting makes the sound more muffled while tile and wood flooring typically amplifies sound.
In conclusion, visiting the venue prior to your wedding day at the same time/season of the event makes a huge difference. Not just for you to see and come up with ideas for the actual event but also to give you peace of mind in being settled with all the things that it can offer for your big-day.